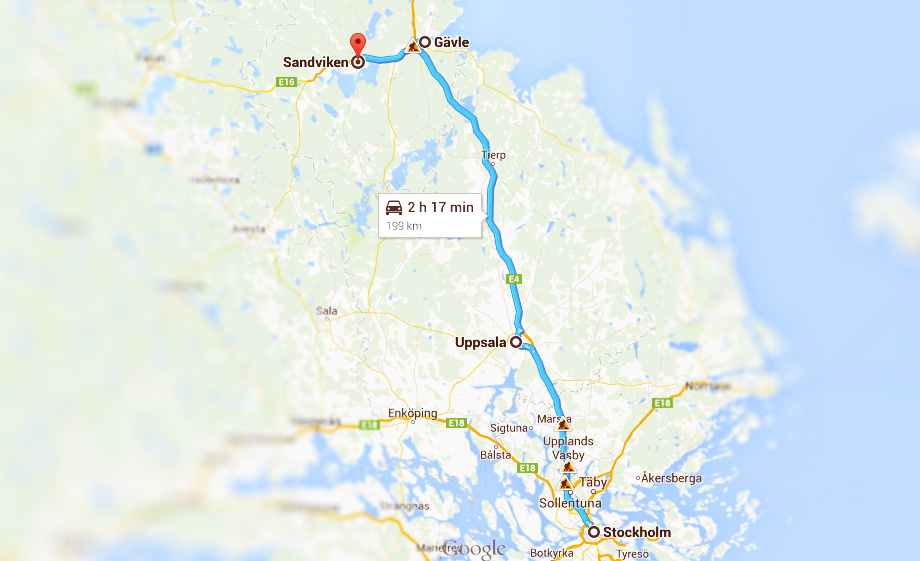 Last November we took a three day trip to Germany and Austria with Tesla Model S. The roadtrip was filled with interesting scenery, Tesla Superchargers, Smatrics network and Autobahns, with P85 Model S. After this I've been winter testing the performance of Nissan Leaf in Finland.
About a year ago I had strong believe and high hopes for BMW to bring the i3 to Finland before end of 2014. Well, this didn't turn out, so it's time to take the roadtrip abroad, again.
This time it's Sweden and BMW i3. There's maybe also some i8 and Tesla on the same trip. Travelling days are 6th and 7th of February.
The map above shows the planned route, from Stockholm to Sandviken and back. As you know, the BMW i3 doesn't make all the way with single charge, so I'll also utilize the CCS fast chargers at Uppsala and  Gävle. The model I'm driving doesn't include the REx, the small gasoline-engine to give about 150 km more range.
I have to admit I'm really excited about the trip. I have high expectations to BMW i3, which is often seen as "little Tesla" when talking about driveability and performance. How well does it go in Swedish winter, how does the charging work? How about the high speed driving on highways? Do those strange rear doors actually work? Do I just find myself with empty battery, at the side of E4 highway, somewhere in the middle of Swedish nowhere?
Swedish power company Vattenfall will launch their own charger network. The chargers are there already, but February 2nd is the date for mobile application launch. Users pay the charging by minutes (3 SEK for min, about 34 euro-cents for min). Fortum's Charge & Drive has the same pricing. So considering the 80% charge, about 30 min, it will cost about 10 euros.
So it's not just the German car but also brand new, fresh charger app. Recently I've been also using Liikennevirta charging app in Finland, so it's nice to see what the Swedish can do differently.
This roadtrip article is first part of the series of BMW related articles. There's some i3 and i8 user interviews on the way, as also some in depth discussion of i3 technology. So stay tuned!
You can follow my trip with hashtag #BMWi3RoadTrip in Twitter.