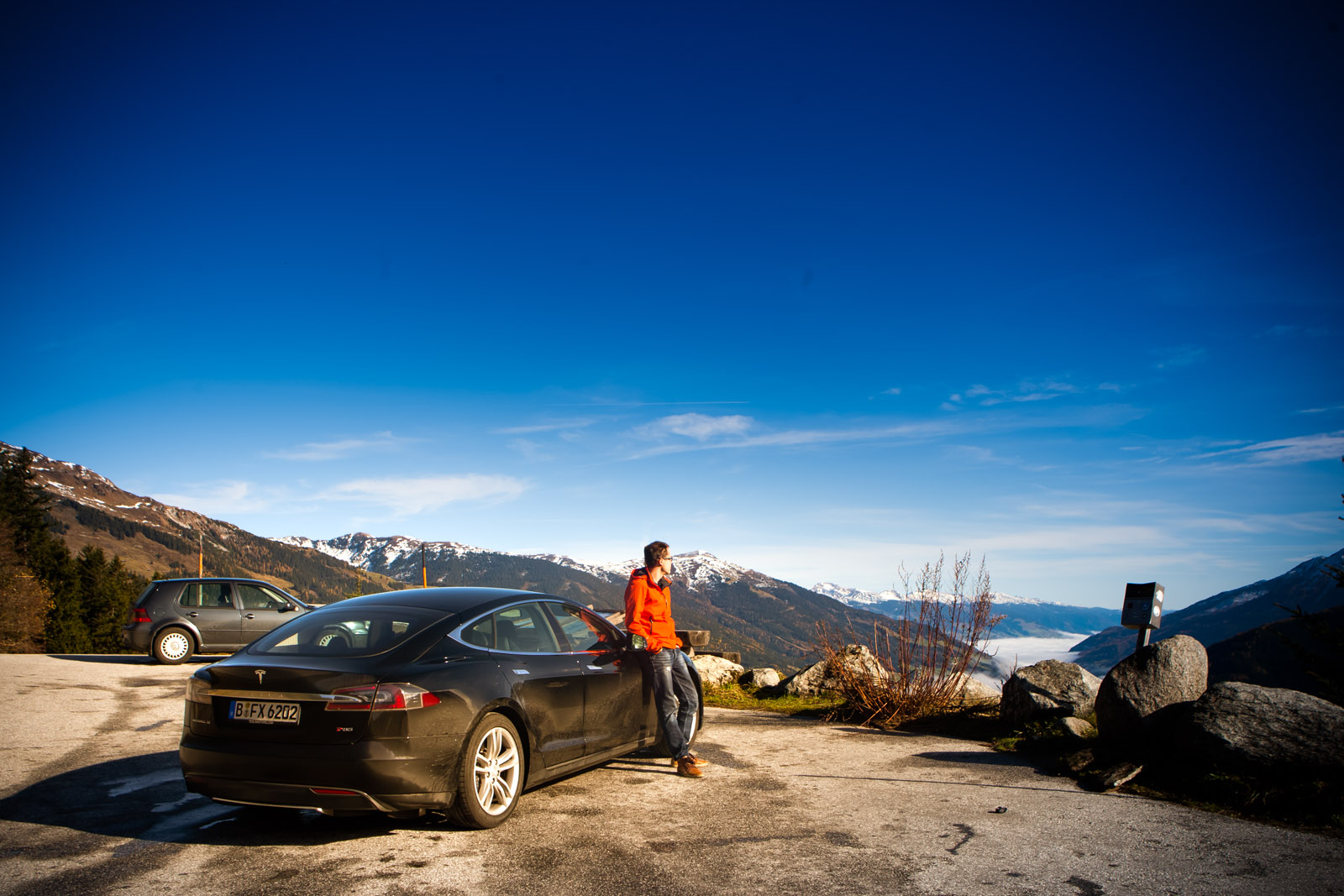 Last summer we had a plan to go to Germany and Switzerland with Tesla Model S. The initial plan didn't work out, but the idea stayed. With Tesla there is also couple of other things: you can't supercharge or drive the Tesla really fast in Finland, so this had to be done somewhere else.
Germany has the autobahns, superchargers and relatively cheap flights to take there. And they also had the Caro car rental company to rent the Tesla with reasonable pricing. This thing had to be done! We decided to drive as much for three days as it is possible. Everything was done to maximize the driving.
One Saturday morning me and my friend took a taxi to Helsinki-Vantaa airport, flew to Munich Germany and there got the car near the airport. Surprise was nice as the car was P85-model with all the goodies Tesla can make.
The first day was easy: Test driving on the autobahn (yes, the speed is capped to 210 km/h) to Aichstetten supercharger. It was really strange feeling to drive the relatively silent car with no engine vibrations at all. And all the Audis ja BMW:s were passed by.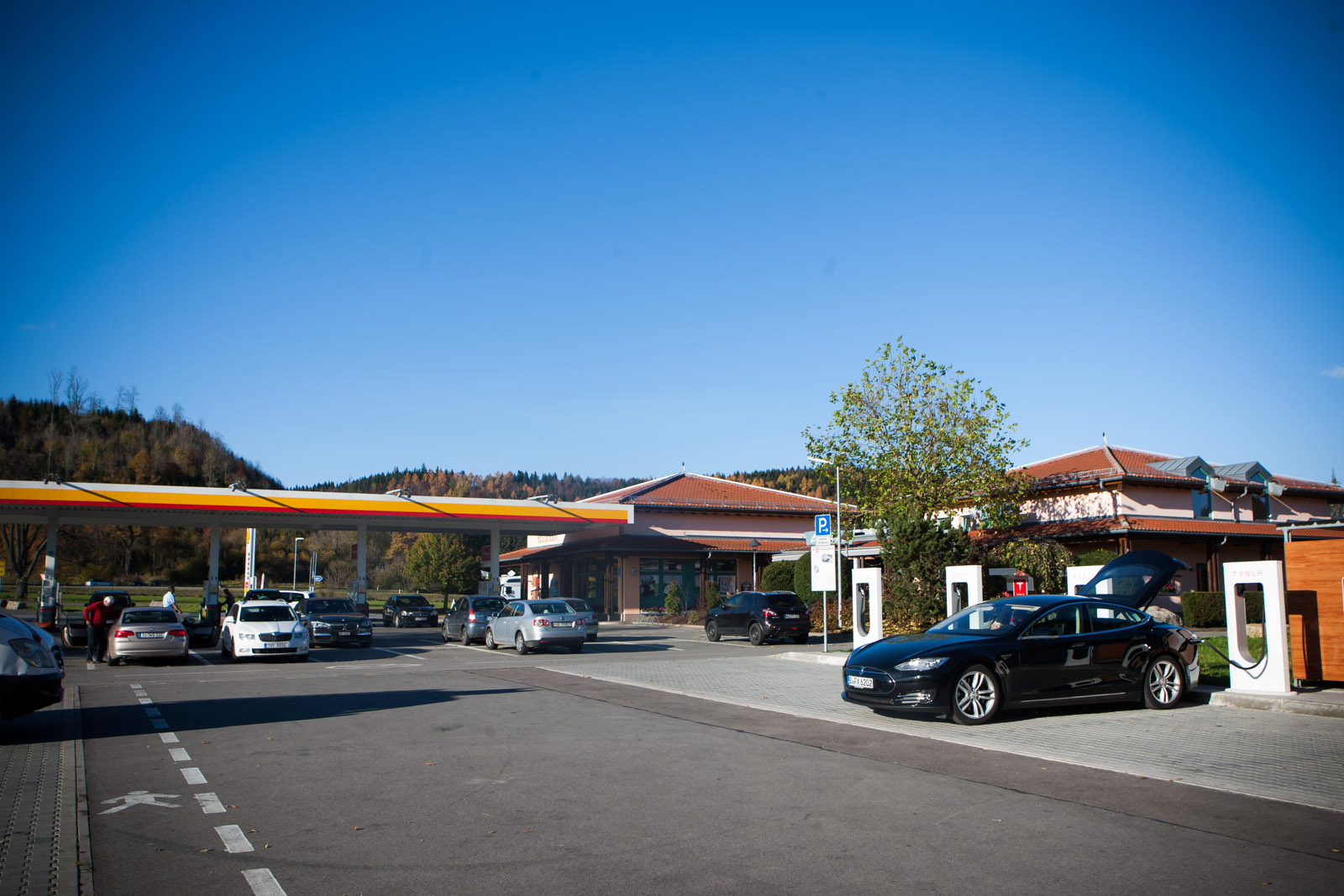 The Aichstetten Supercharger
For the evening we also visited Rolls-Royce museum near Lake Boden in Austria. For the night we got to St. Anton, where we also charged the car at Supercharger. St. Anton had three stalls: One was out of order, one was in construction but the third gave us a nice 100 kW of electricity.
The second day started with beautiful sunrise. We drove from St. Anton with full battery to Innsbruck. On this road I noticed the sun shining towards the mountains and the bus stop along the road. This is the place where I took the somewhat famous picture which ended to Tesla Motors Facebook and Instagram feed.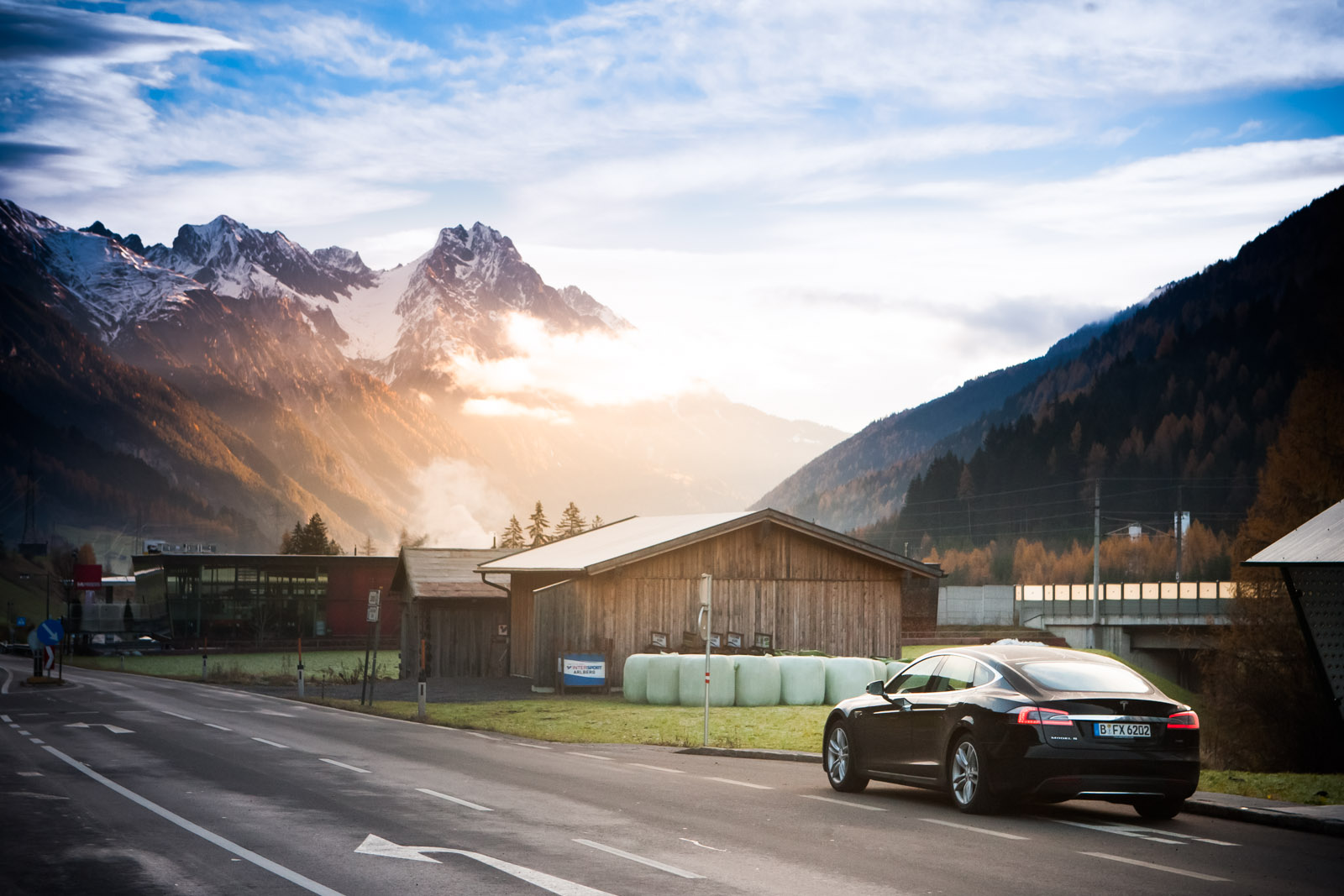 The road from St. Anton to Innsbruck. And some early morning sunrise.
For Innsbruck I had managed to get the local charging RFID-card. The first charger was all cold, it didn't give power at all. But second one feeded our Tesla while we had our coffees and walked around a city a while.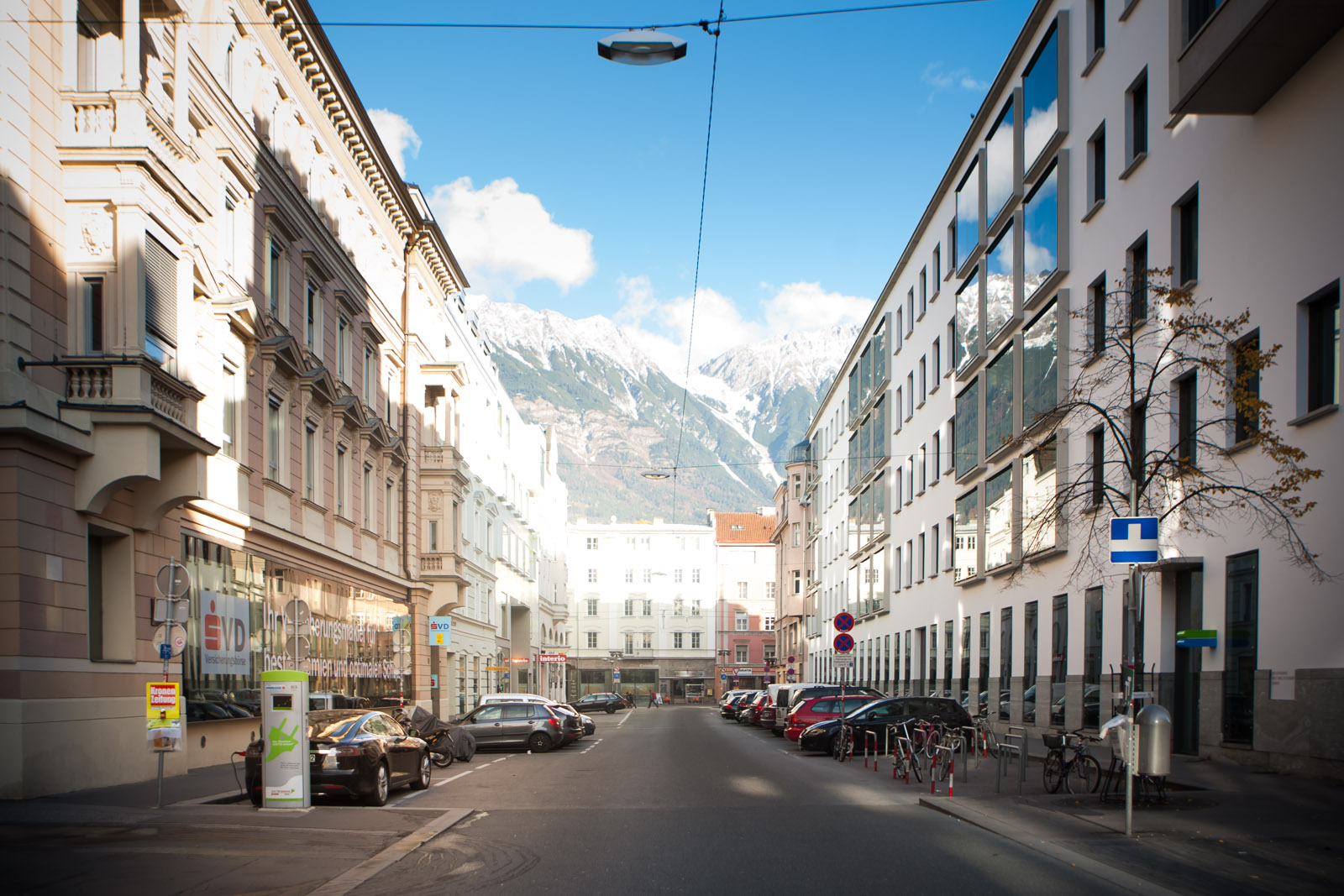 Sloooow Charging at Innsbruck.
To be honest the charger was really slow as it used only one-phase 230 current. For the 20 minutes we were at the charger we got only about 1 kWh of electricity. This moved the car for only four kilometers. So practically the charger was meaningless, but still a nice curiosity.
Next stop was at little village of Neukirchen am Grossvenediger. We had done our homework well, and knew there's a free 22 kW charger available. There we plugged in for lunch.
But then all the sudden we realized the whole village was a kind of closed. There wasn't a single open hotel or restaurant, as they'll all open in December. We had to leave the village to get some lunch. Luckily there was a roadside snack stand open to help us out.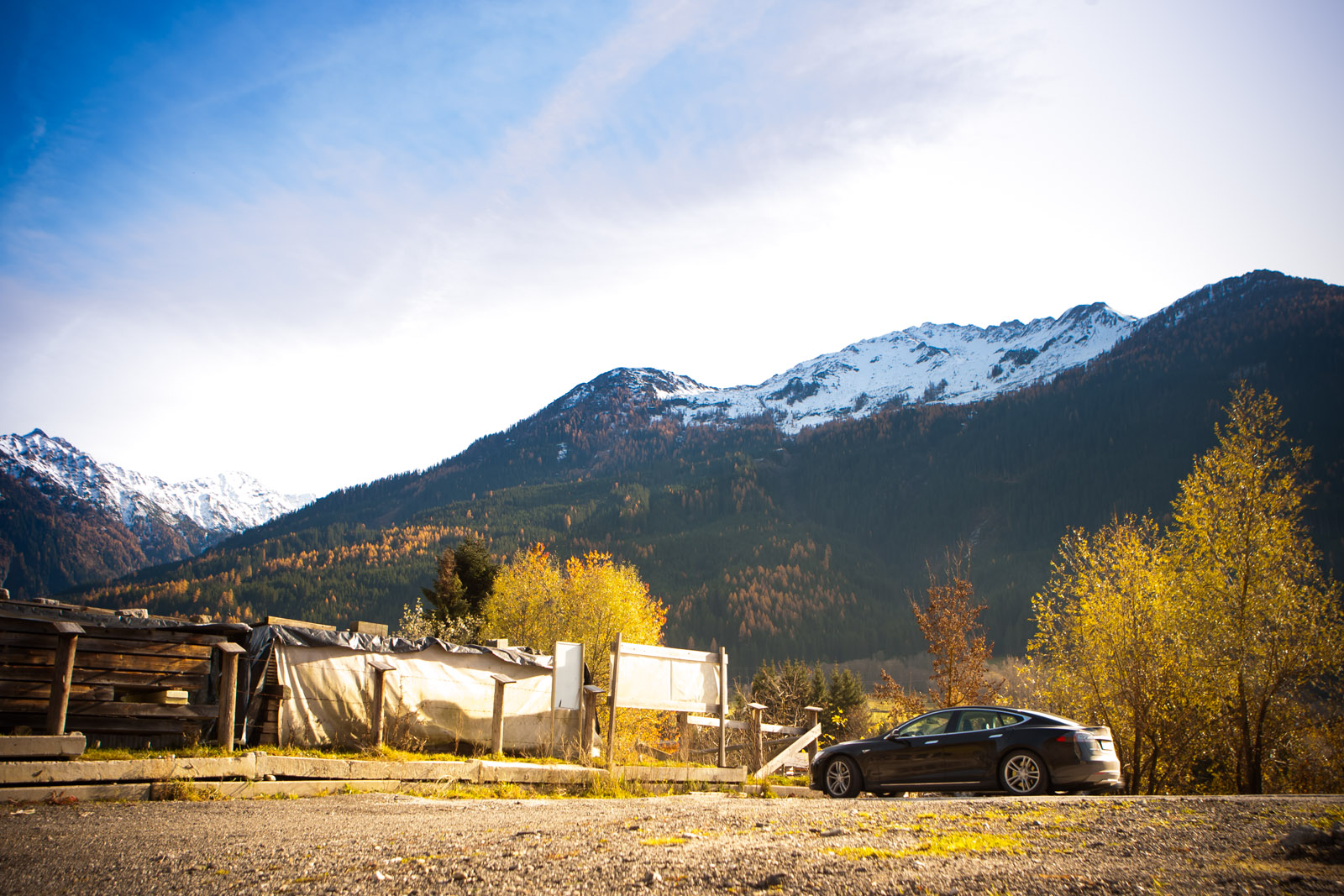 Even the roadside burger joints have nice views in Austria.
The trip continued to south, over the mountains. Here we probably had the most unbelievable views to valleys. Tesla did the nice job climbing uphill silently and effortlessly. There was quite a contrast to gasoline-engine cars with their engines shouting high RPM.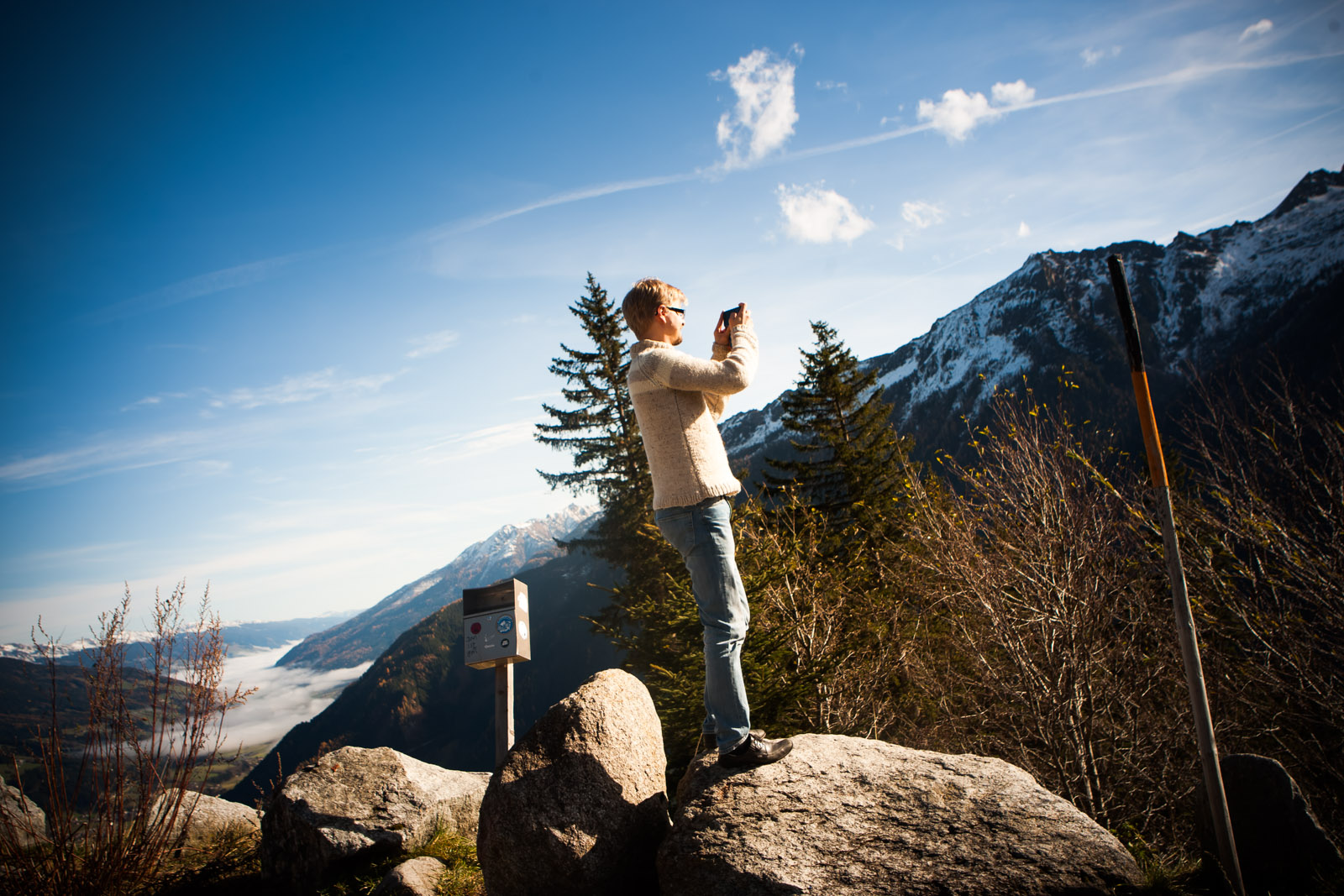 View to valley. Pretty cool!
The next stop was at city of Lienz. Before the trip we had figured out there's a 22 kW charger by Smatrics, open 24/7. And there it was, at the wall of local hardware-store. We left the car to charger and walked about one kilometer to nearby gas station to get some coffee and snack.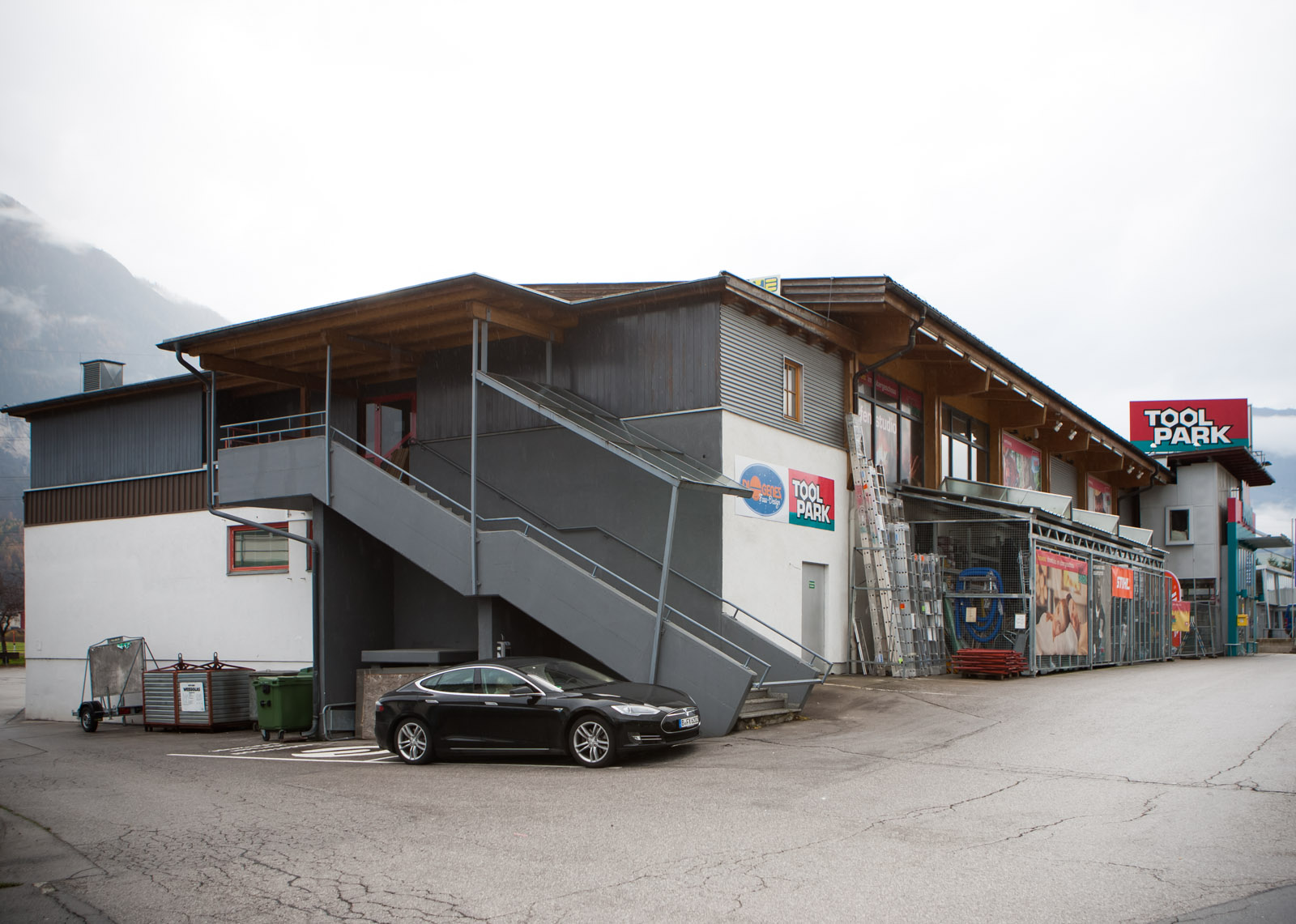 The Smatrics Charger at Lienz.
Last leg of the day was about to begin. The plan was to drive through the mountains to Zell am See and then continue to Salzburg Supercharger. Day turned to evening, roads got narrower and some fog came to make travelling even slower.
At half way to Zell am See the road was blocked. There was a sign telling there's a snowfall risk. Still there wasn't any snow visible anywhere. Anyway there was no way going through the boom and getting to Zell am See meant over a hundred km of extra driving. The battery wouldn't last that long, so we had to come back to Lienz and charge again for an hour to make it possible to drive the motor highway to Salzburg.
The highways are in many ways boring to drive. At least when its completely dark. But thins got interesting as we noticed the "rated range" of Tesla came down a lot faster than the actual trip to Salzburg Supercharger was. We calculated that at this rate the battery would drain to empty somewhere about 10-20 km before the charger.
So what to do? Somehow we had to get to Salzburg. We decided to stop to every gas station on our way, maybe someone of them could offer us three-phase power cord of 11 kW charge.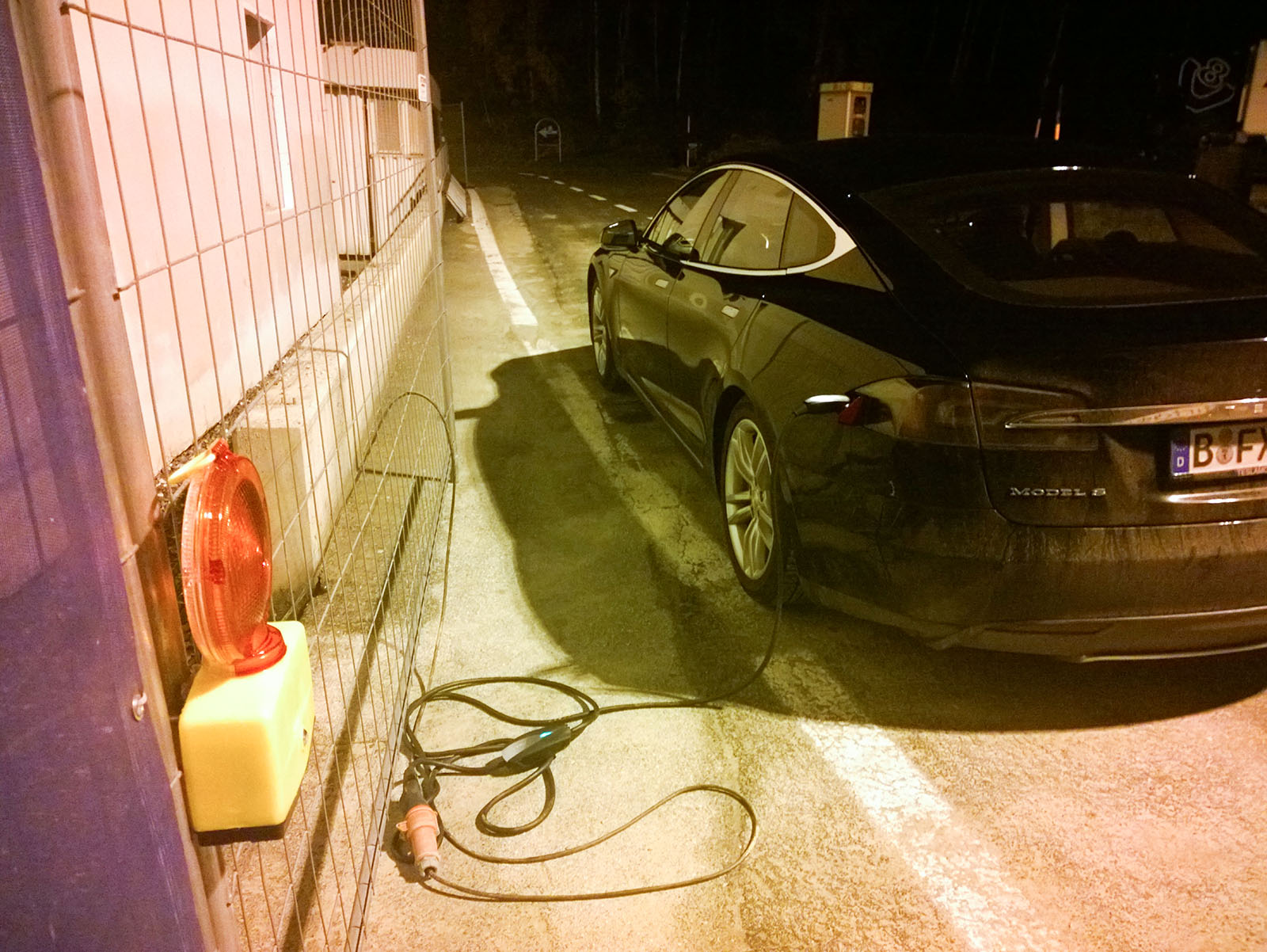 The very first stop was a great success. The staff was really helpful to find us the power and really soon the car was next to a construction yard with some red power plug.
Then, after an hour we continued the trip. And finally came to Salzburg Supercharger, charged just the time of our evening snach at the hotel and then continued to Germany to our AirBnB -host.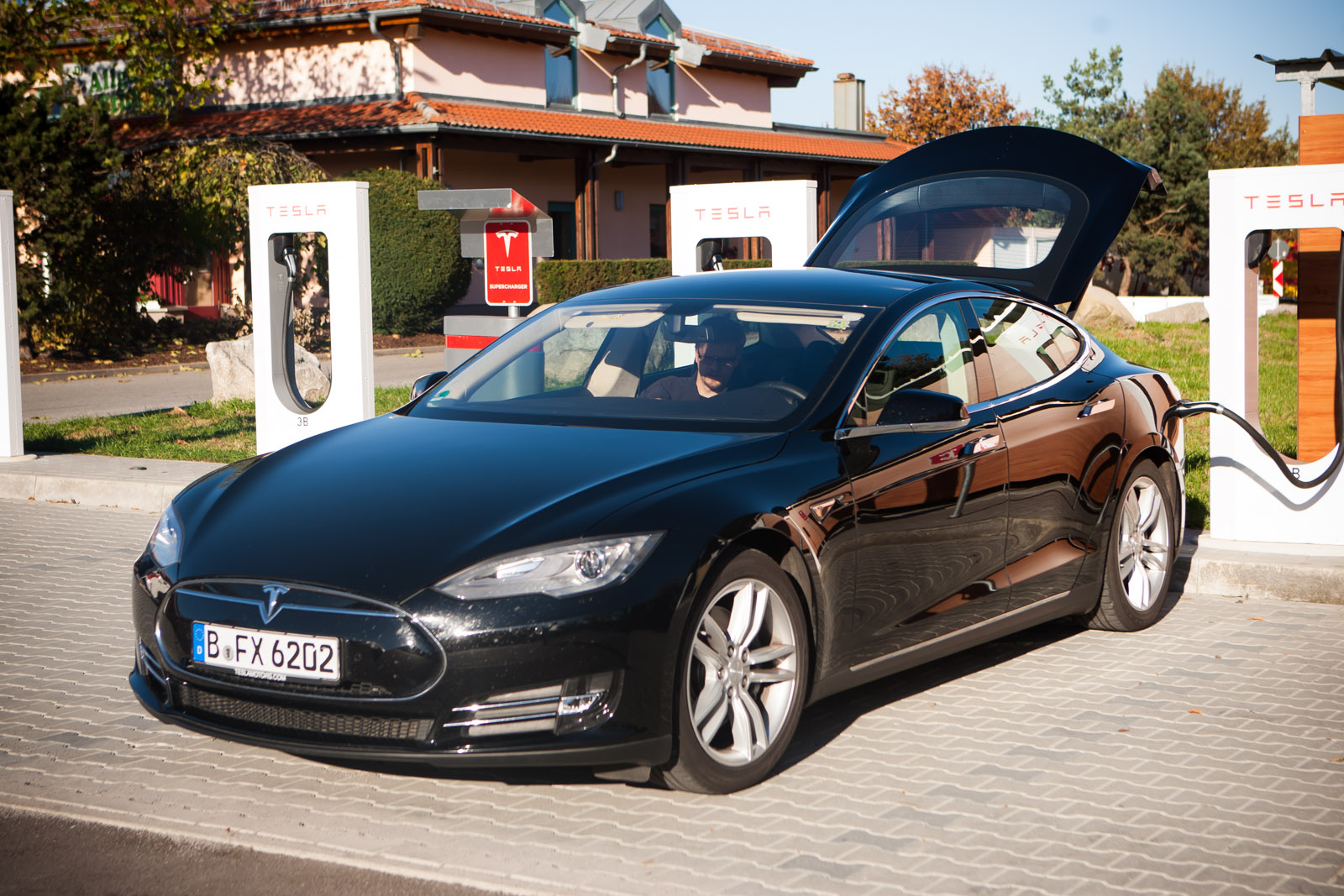 The morning charge at Salzburg supercharger.
The last day was again easier as we used only Superchargers. At first we drove back to Salzburg Supercharger to charge both the car and the drivers. The owner of the hotel happened to be present too, and we had a really interesting discussions about the Tesla and electric mobility in general. I noticed many common factors both in Austria and in Finland.
Then with full battery our journey continued to Zell am See that was missed the day before. I guess the Monday is any way better day to visit the town, as restaurants and everything are open.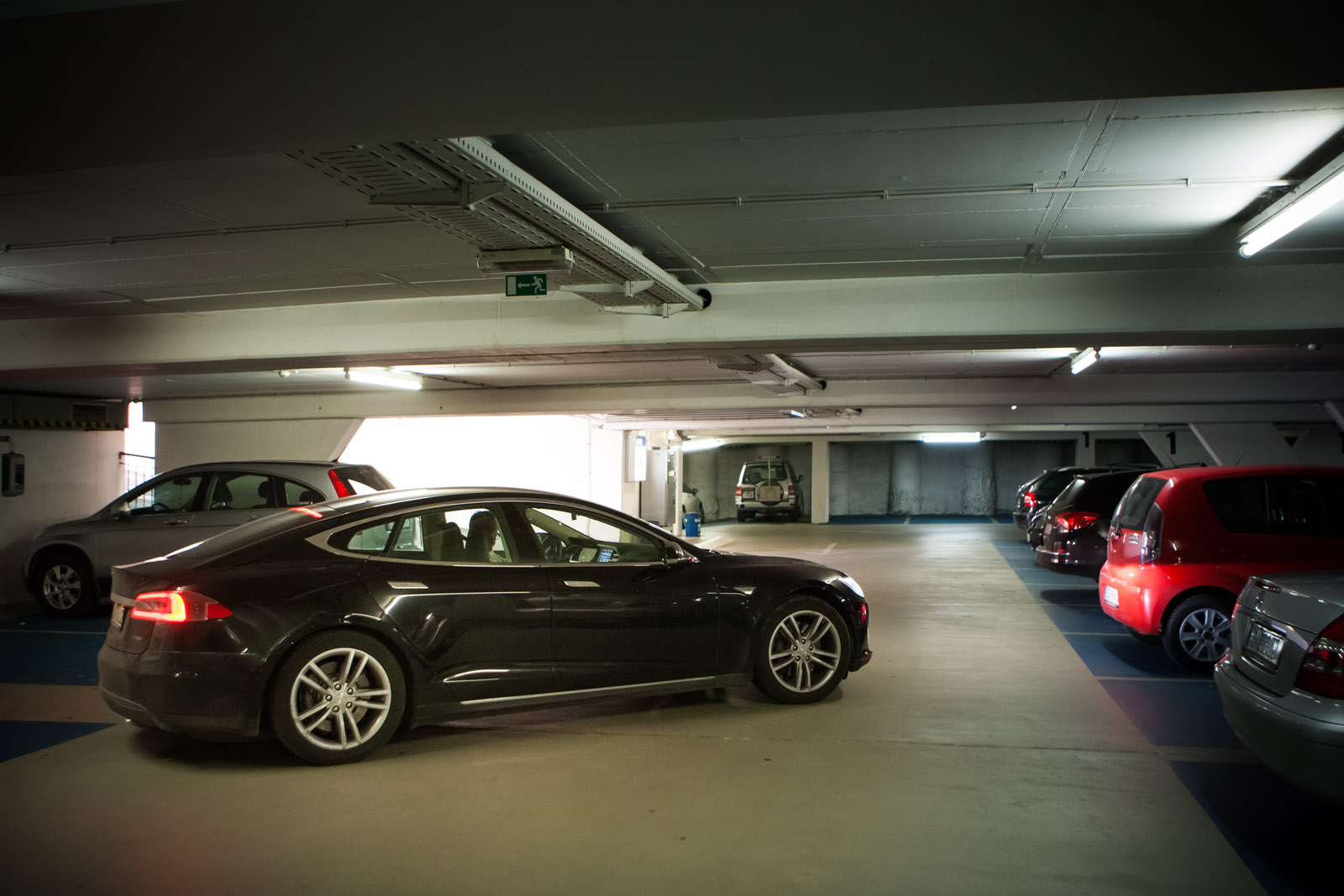 Zell am See and some ICE-reserved electric car slots…
At Zell am See we struggled to find the Smatrics chargers at parking lot, and eventually there was some regular combustion engine cars parked at both of the lots. Well, luckily we had a really good charge in our Model S.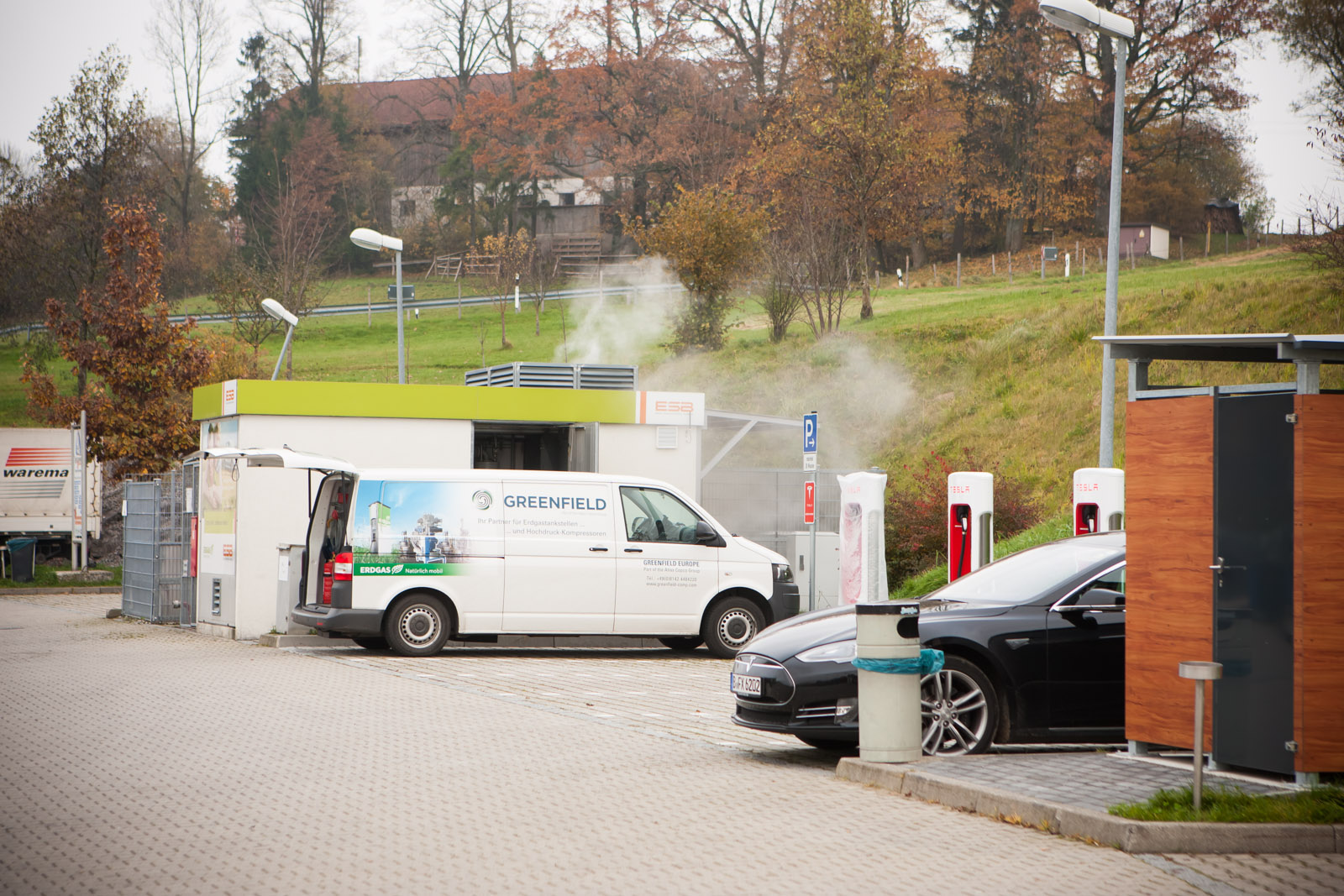 Natural gas leakage at Irschenberg Supercharger.. What could possibly go wrong??
All good things come to an end. After lunch we had to continue to Irschenberg supercharger and then back to Caro car rental company. As we could rely on superchargers there really wasn't any worries on the road, just pure driving pleasure.
After some 1250 km  of road trip I can say the Tesla Model S is really really suitable for long trips. All it takes is to really plan the trip beforehand and be prepared for surprises (like blocked roads). For second day we drove 650 km, which probably is longer trip people usually do while on holiday.
On the other hand the Model S is a really big car. It doesn't perform that well in small European cities compared to, say, Nissan Leaf. Still the Tesla superchargers are the best fast DC-chargers ever made, as you can rely there's pretty much always a free slot to charge and a working charger.
After trip I'm confident to say we're definitely going again, but for some longer time!
Ps. We paid the trip all ourselves. Tesla or anyone else didn't cover any cost. This is a pure hobby!