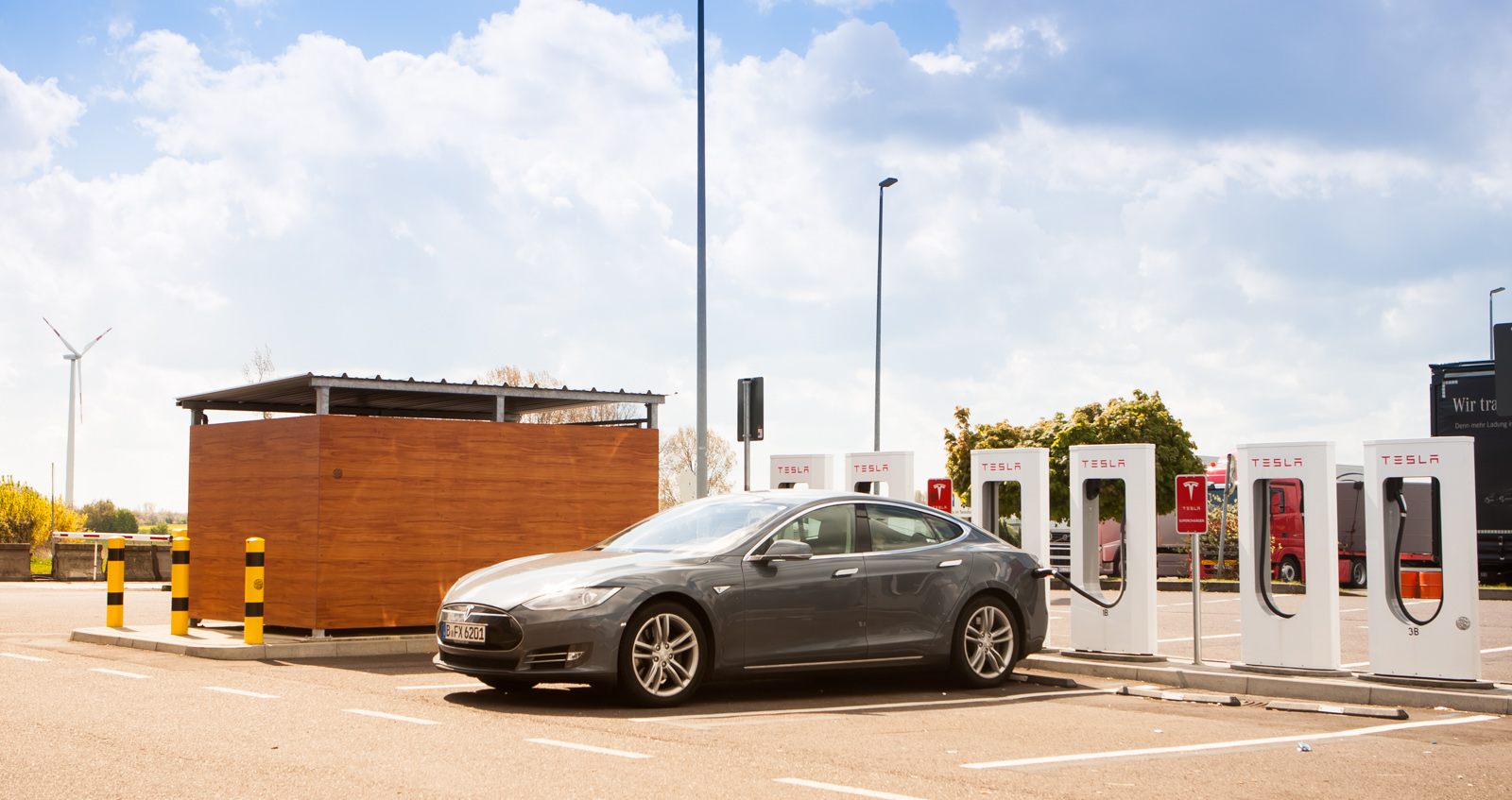 Hohenwarsleben Supercharger, near Magdeburg. The first charge on the route.
Driving the Tesla Model S isn't a new thing. The car was introduced 2011 in US, four years ago. If Model S would be a normal car, it would have had a facelift already.
But it's not a normal car. It's still hugely expensive, and the only car to make over 300 kilometers with one charge. And it's the only car to have Europe-wide, actually working high speed charging network. And you need both to make long road trips.
I'm definitely not the first one to drive the Model S from Berlin to Amsterdam and back, in four days. But for some moments it felt like that. People asked questions like "what is this car, never seen it before?", "Oh it's electric! How far can you go with one charge?" One German fellow seemingly refused to believe the charging is free, but wanted to be polite and not question my words. The third question in the row was of course: "How long it takes to charge it?".
But I'm happy to answer the questions and discuss the cars. Specially the electric cars.
I also had my daughter, seven years, with me. She has never been a good passenger (every parent knows the special tone from the back-seat, "When are we there? Is there long way to go??") and now we're driving 1500 km in four days.
Plan was clear: First day we're driving to the Hanover Zoo, it should motivate the travelling. Then next day it would be only couple of hundred kilometers to Amsterdam, where we'll meet the rest of the family for about the 24 hours. Third day takes us via the Afsluitdijk to northern Netherlands and then back via Zwolle to a village, near Hanover. Fourth, and final day is only for travelling to Berlin, return the car and fly back to Helsinki, Finland.
First day was really exiting. Waking up at 4.30 (yes, still the night..) and taking a taxi to airport was exciting enough for us. She couldn't continue the sleep in the plane.
Flight to Berlin is fast, less than couple of hours. The Tegel airport seems to be almost inside the city. I couldn't help thinking of this view 67 years ago, in a blocked city supported only by the airlift of the west.
Surprisingly the Wall of Berlin and divided Germany came one of the topics in the car, when just sitting and chatting those long legs on the road.
Finally we're landed in this foreign country with so many Germans! To the car rental! The company is the same as we had last year in Munich and Alps: The Caro. It still seems to be the only reasonable priced rental company for Tesla in Europe, in addition to Austrian Blitzzcar.
Travelling with electric car is the family friendly method. Because you need to charge every 200-300 km, (or more often in case of Nissan Leaf, Volkswagen e-Golf, similar) you have to stop more often and longer than when just refueling. So, weather permitting, there's a lot of play around the Superchargers, eating out, drinking coffee, eating ice cream and so on. Had it been Finnish November, it might be really hard to find joy to park for charge in the middle of huge parking lot of a shopping center, which happens to be closed for Sunday.
But it wasn't. It was a lovely, sunny, warm May in lovely, beautiful Germany.
We began driving through the Berlin. It was still early Saturday morning, so there really wasn't too much traffic. Actually one car there happened to be other Model S, and there seems to be a habit of waving fellow Tesla drivers on the road. Just like motorcyclist do.
I tried to explain the meaning of the Brandenburg Gate to my daughter. The gate with so much symbolic meaning of one, unified Berlin. Near the Gate there's also Holocaust Memorial place. I decided not to explain this in too detail.
The road to Magdeburg and Hohenwarsleben Supercharger was an interesting trip to German road culture. It's really nice to drive when people around you respect other drivers and faster cars are given a lane. As Model S is restricted to 200 km/h, I also ended up to give way to some Audi's and Mercedes-Benz's.
Hohenwarsleben had six charging poles and no-one charging at them. First pole failed to charge, but second one worked just fine. And then, to local McDonald's for lunch.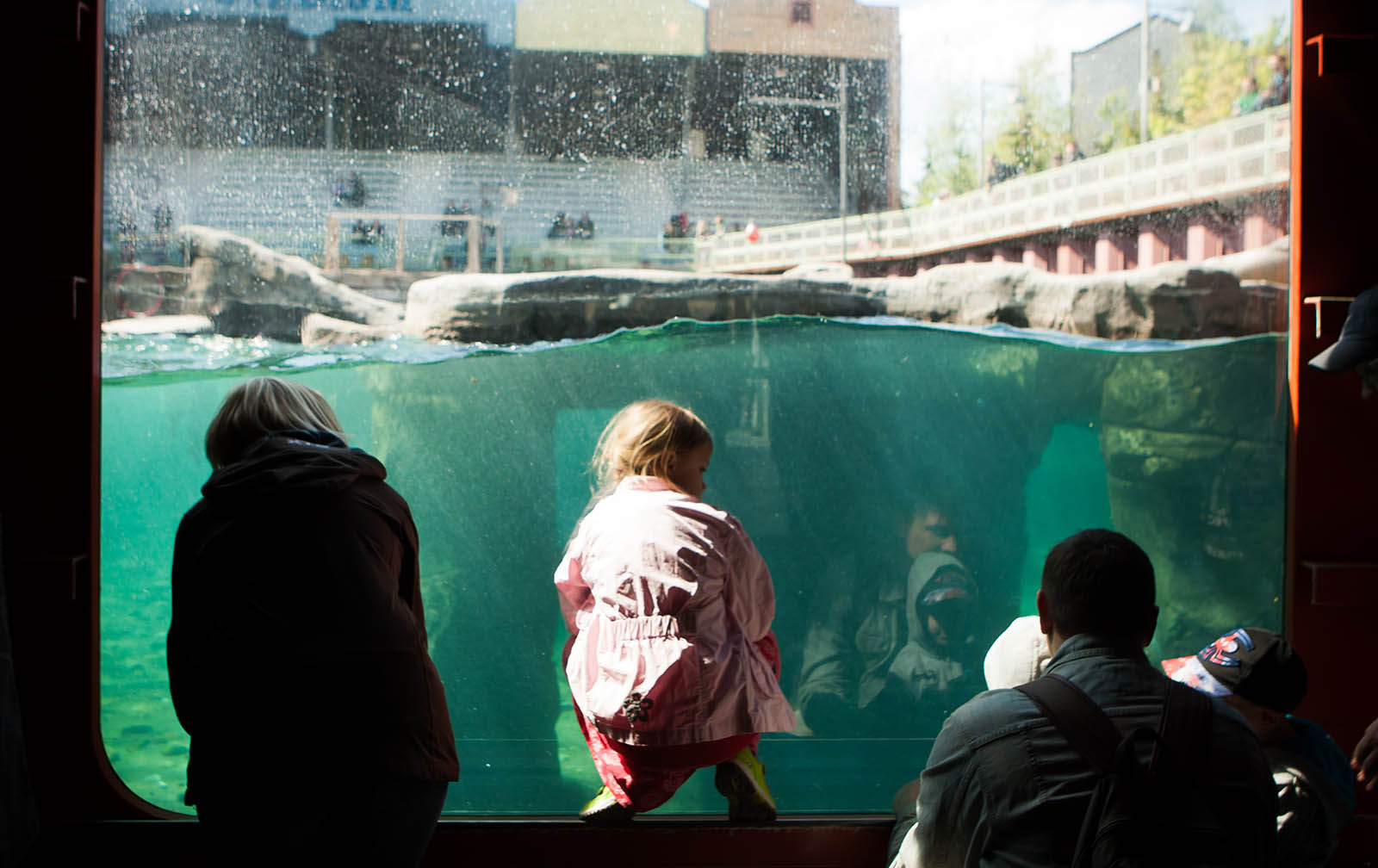 The Seal is there somewhere!
We also drove through the old border of the East and West Germany at Marienborn. It had the memorial stone and old watchtowers still in place. Germans don't try to hide the history, but make it possible to learn from it. Then I tried to explain to the backseat that here was actually a border, like two separate nations but still Germans at the both side. She couldn't understand.
This is the heartland of German car industry of the north. The city of Wolfsburg is the city of Volkswagen and the Autostadt. No wonder there's a lot of VW's on the road here. Volkswagen doesn't import the batteries of electric cars and plug-in hybrids from the far east. The nearby city of Braunschweig is the place where e-Golf batteries are made.
The Hanover Zoo was expensive (42 € for me and the young lady) but definitely worth it. The decoration, the atmosphere and the animals were so much better displayed than in Helsinki. Zoo is organized to be a ring or a circle to walk around. I have to admit we were both exhausted after four hours of wandering in relatively cool weather and not too many people. How tired would we've been in hot summer high-season day?
The last leg to our place to stay went trough the Lauenau Supercharger. And dinner. Lauenau had one other car also charging when we came there, but the driver wasn't there. Apparently he or she was also having something to eat, same plan we had.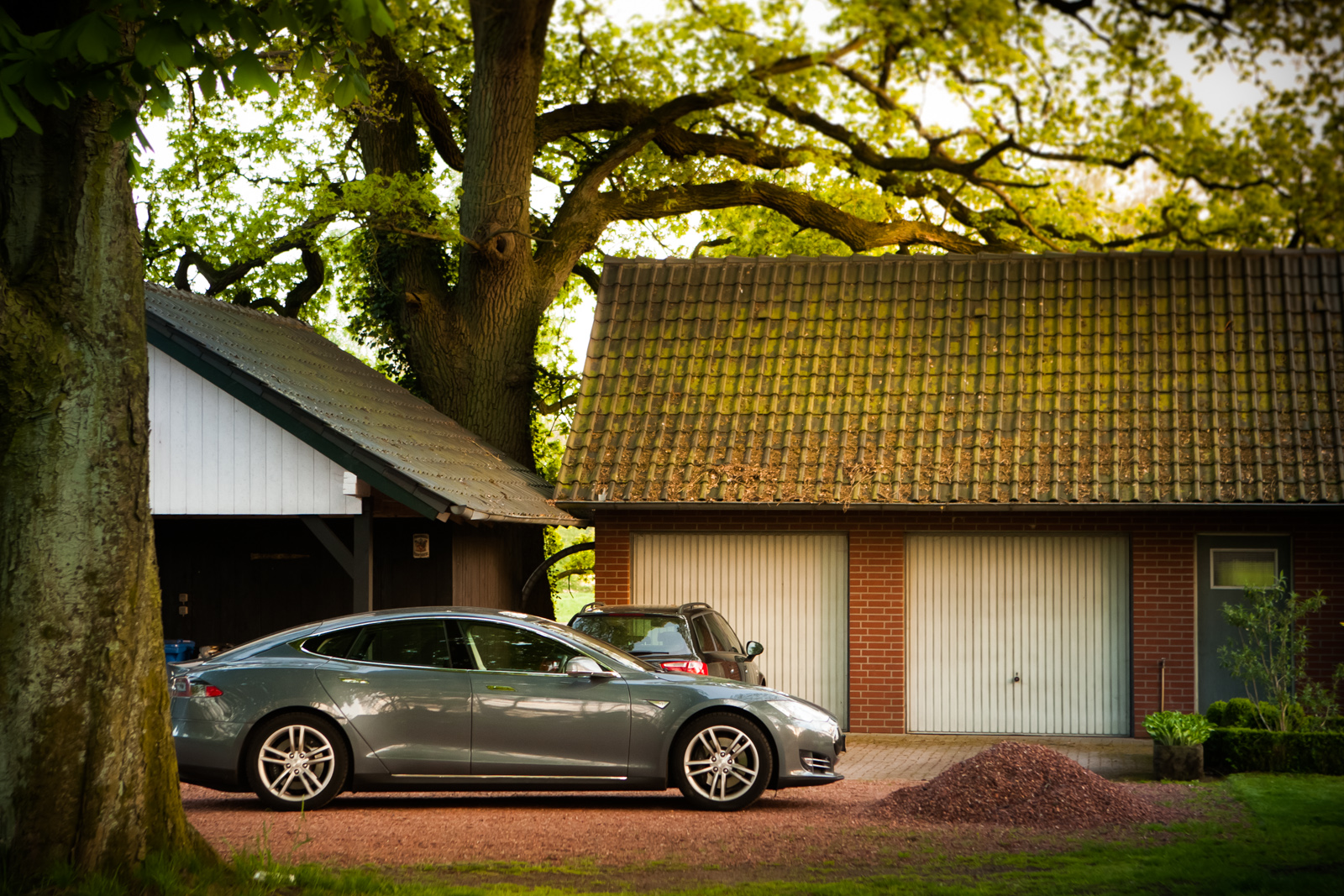 First overnight at Germany, near Lauenau Supercharger.
I have to admit the day was long and we were tired when coming to our AirBnB place for night. The hosting couple was really friendly and nice, and luckily they had prepared some snack for evening.
But still the bed was the only thing we were really waiting for!
Next post, another day!